Wxgyhj attend in the 3rd High Concentration Refractory Wastewater Treatment Innovation Technology Conference
Date:2019-10-29
Source:
Views: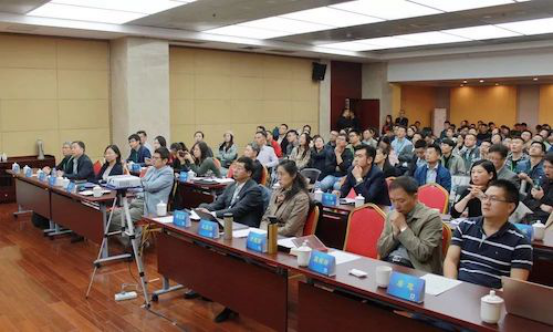 On October 26, 2019, the 3rd High Concentration Refractory Wastewater Treatment Innovation Technology Conference was held at the 8th Yancheng City Environmental Protection Industry Expo. The forum was hosted by the Yancheng Municipal People's Government, the Chinese Academy of Sciences Ecological Environment Research Center, and the National Engineering Laboratory for High Concentration Refractory Organic Wastewater Treatment Technology. Yancheng Environmental Science and Technology City Management Committee, Zhongguancun Zhongke Water Environmental Protection Technology Innovation Promotion Center, Water Industry Market magazine hosted. The forum aims to conduct in-depth discussions on high-concentration refractory wastewater treatment market and technology development trends, innovative technologies, and transformation of scientific and technological achievements to promote industry development and progress. The forum attracted more than 200 industry insiders to attend. Zhan Xu, director of the Environmental Innovation and R&D Center of Wxgyhj, was invited to participate in this forum and gave a report titled "Application of Dissolved Air Flotation and Its Combined Process in Landfill Leachate Treatment".
At the beginning of the forum, Qu Jiuhui, an academician of the Chinese Academy of Engineering and a researcher at the Center for Eco-Environmental Research of the Chinese Academy of Sciences, gave a report titled "The Present and Future of Environmental Technology: From Overall Trend to Development Direction" Academician Qu Jiuhui believes that the transition to a high-quality development stage requires a cross-cutting of some conventional and unconventional barriers. Green technology innovation is the only way to achieve "improving the ecological environment is to develop productive forces." Science and technology respond to green development needs, need cross-industry + multi-pollutant + multi-media + full-process synergy + comprehensive prevention and control, research scale to a broader and deeper extension, while emphasizing global and regional environmental governance links. The report proposes six important directions for China's environmental science and technology development, including a green and healthy sustainable environment model, global environmental governance from the perspective of the human community, a carbon-neutral concept-guided non-waste society, and a multi-media and multi-process synergy environment. Comprehensive management, artificial intelligence control, precise control of the environment, and highly flexible environmental systems that adapt to slow and sudden changes, analyzed and interpreted separately.
Zhan Xu, director of the Environmental Innovation R&D Center of Wxgyhj, gave a report titled "Application of Dissolved Air Flotation and Its Combined Process in Landfill Leachate Treatment". According to the report, landfill leachate refers to the sewage generated by the fermentation, precipitation leaching, surface water and groundwater in the process of stacking and landfilling. The report introduces the new technology of industrial air flotation and its joint process: deep ozone flotation integrated water environment equipment and technology. It has been applied well in many practical cases such as the Beijing Daxie Garbage Transfer Station Project, the Liaozilin Landfill Leachate Treatment Project in Changtai County, Zhangzhou City, Fujian Province, and the Changzhou Municipal Waste Waste Treatment Center Project.